cycling training in winter mountain
training on snow with studded tires


The web site "Cycling training on snow" which had been here has moved to Cycling training on snow.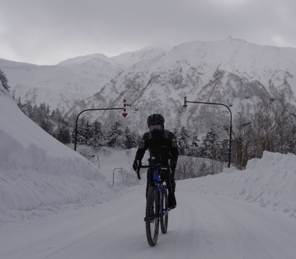 In a temperature of 20 degrees Celsius below zero, wind speed is 50 kilometres per hour, riding at 70 kilometres per hour, the sensory temperature reaches minus 40 degrees Celsius. The visibility falls to 5 metres because of a strong snowfall and you loose all sense of direction in the middle of white. It's not a very friendly environment for cycling. But winter mountains do not cease fascinating us. We're always attracted to hibernal mountains because there, there are something we can't experience in our daily life.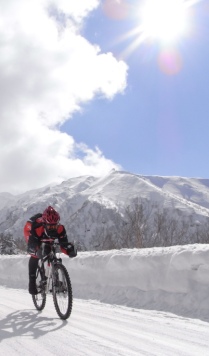 Riding in winter mountains is much more fun than riding in summer mountains. Many think that cycling in winter mountain is an extrem sport. But it's not true. With proper equipement and with proper experience, you can ride in winter mountains as comfortably as cycling in summer mountains. We do this sport as routine training. Our most favourite training route is the Mt.Tokachidake (Mt.Tokachi) where the road is paved up to 1280m of altitude. There, the snow quality is often good and the trafic is light. It is an ideal training route in winter.

On this website, we introduce our training scenes in the section Training Reports and our bikes specialised for the training on snow on the page road racing bikes for snow.

Our training on snow covered roads in winter mountains is held on an island called Hokkaido in Japan. We are looking forward to new participants in our training.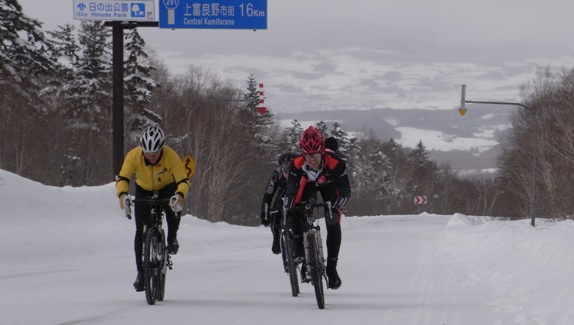 Words from K (translator of this site):
I thank you for visiting this web site. I hope you will enjoy it. As English is not my mother tongue, sometimes you'll find mistakes or uncomprehensible texts. I will be grateful if you let me know my mistakes and correct expressions.

This web site is a satellite site of bike training on snow.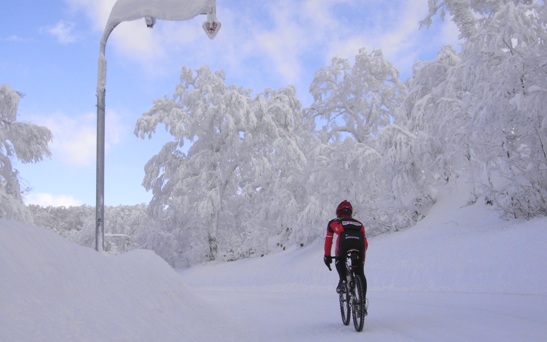 This site is designed for the latest version of Opera (Presto). It is also confirmed that Firefox (Gecko), Internet Explorer (Trident) and Sleipnir (Gecko/Trident) display this site almost correctly. Some pages might not be correctly displayed with other browsers. Recommended window size is about 970:640 (Opera).

At the bottom of every page, you'll find links written in Japanese (if the Japanese characters are not installed into your computer, they might not be displayed correctly). Those are advertisements which are automatically inserted by the sponsors supporting the web server.